Welcome to our fun pages!  

In addition to our fabulous sales items, patterns, dolly ready to wear, etc., in our web store,  we have added a photo gallery to feature the wonderful collections and creations of our customers, friends and collectors!   

Visit us on Etsy!!!   ​

We will also be adding special do-it-yourself information, restoration hints, and links to our favorites.

If you have any suggestions please send an email!  We would love to hear from you!  

If you don't have time to visit and browse at the moment, here is a quick link to    start shopping!!!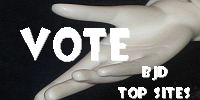 These very sheer and sassy sets are our newest designs...made especially for custom painted artist dolls who have beautiful body painting and/or tattoos too gorgeous to hide. Available in ready to sew kits and as ready to wear by custom order.

Décollage push-up style lace bra, bikini, thong, garter belt and stockings sets for fashion dolls and BJDs from 12" to 26" tall from Sew Retro Designs.  

Custom Orders and Artist Collaboration

Visit Artist Laurie Leigh to see the finished & dressed custom painted dolls.